One display, one city
Digital city is a new urban form of contemporary society, It's based on a new generation of information technology, it senses, analyzes, integrates and utilizes urban data through the use of information and communication technologies, to realize comprehensive, timely and effective overall control of urban resources.
The visualization platform is an advanced technical approach, allows to use the graphics, image processing, computer vision, and user interfaces, Through the the surface, properties and the three-dimensional display of animation, a variety of scientific theories and information technology are integrated to interpret the data visually. People can have a more intuitive and efficient insight into the information behind the big data, perfectly matching the current cutting-edge needs of digital cities.
LED small space display system, as a display terminal of visualization platform, is used for fast presentation of existing data analysis results. It can make complex and abstract data results to become easy, intuitive and simple, so as to help government departments grasp the latest real-time trends of the city, to realize all aspects of fast operation, truly achieve harmony and win-win between people and cities.
Here are two real cases from changchun new district to see how a screen can keep the city under control.
Changchun is the provincial capital, deputy provincial city of Jilin province, and the central city of northeast Asia economic circle. It is one of the central cities in northeast China designated by the state council. Changchun new area is the 17th national new area approved by the state council in 2016, covering Changchun high-tech industrial development zone, Beihu economic development zone, Changde economic development zone and airport economic development zone. The planned area is about 499km2, which is an important part of Changjitu development and opening pilot area, and its strategic positioning is innovative economic development demonstration area. We will implement innovation-driven development, and accelerate the establishment of platforms to support mass entrepreneurship and innovation, including crowd innovation, crowd sourcing, crowd support, and crowd funding. We will give full play to national technology to transfer northeast center function and build an important center for scientific and technological innovation in the northeast. We will foster and form scientific and technological innovation clusters that integrate scientific and technological research and development, the transformation of research achievements, and production, and strive to increase regional capacity for innovation, so as to drive economic transformation and upgrading through innovative development. We should give play to our comparative advantages, rely on the existing industrial foundation, focus on realizing the modern urban areas with integrated high-tech information technology, participate in the international cooperation on production capacity, improve the competitiveness of the international market, and drive the comprehensive revitalization of the old industrial base in northeast China.
Cedar as a national high-tech enterprise integrated with scientific research, development, production, sales, service and postgraduate training, which is controlled by Chinese academy of sciences, gives full play to geographical and unique COB display technology advantages to facilitate the comprehensive construction of the digital new district, and creates a highly developed urban operation and control center.
Changchun new district comprehensive service center for government affairs
Changchun new district comprehensive service center for government affairs uses data visualization technology to display massive big data involved in various business of government affairs services, to let abstract data become concrete, intuitive, so as to effectively help office staff and ordinary people better understand and use data, and get good results. In the deployment of business and function decomposition, government departments make use of visualization technology based on large display screen to achieve a real "zero distance" between data and government officials, data and ordinary people, data value and multi-level business.
The display screen area of the whole government affair comprehensive service center is more than 300 square meters, It has the characteristics of simple and beautiful, full color, broad visual Angle, but also has the unique technical advantages of low brightness and high ash, low power and low noise, eliminating the sense of granulation and glare to provide a comfortable government environment and effective visual protection. And also reduce unnecessary disputes caused by opaque information and process.
Digital new area operation command center
After the completion of the operation and command center of the digital new area, it will be based on computer technology, multimedia technology and big data visualization, With the help of remote sensing, global positioning system, geographic information system, simulation-virtual technology and engineering measurement technology, it can conduct three-dimensional description of the urban areas under its jurisdiction by multi-scale, multi-space-time and multi-species. Through the largest area currently put into use, namely the 96.77m2 NCD012 digital urban area integrated three-in-one COB main display screen and the 11.98m2 NCD012 integrated three-in-one COB sub-screen of the command room, so the past, present and future of the whole city are clearly presented. Realize the effective use of information resources and further realize the sustainable development of urban areas.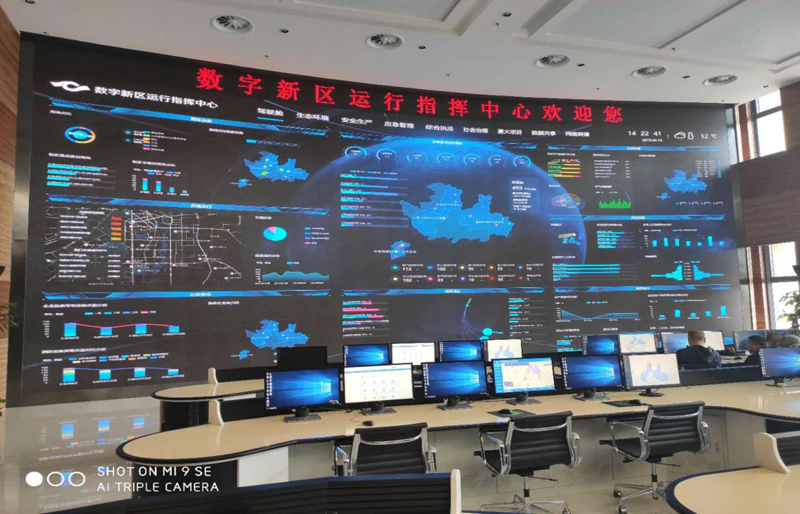 It not only supports data visualization in traditional chart form, but also supports big data visualization which integrates 3D technology and geographic information technology. As the final form of big data application, it emphasizes the intersection and integration of cognition, visualization and human-computer interaction. It presents all kinds of multi-source, heterogeneous and massive data in the government business system in a graphical way.
Operation management center staff can conduct big data modeling with the help of customized output module, and visually arrange through simple drag and drop and parameter configuration. It can not only generate professional data analysis report on the large data visualization screen, but also arrange a complete data presentation WEB page.
The main command center display screen USES distributed control. It can dynamically assign tasks, and the scattered physical and logical resources can be exchanged through Internet technology. It can switch with the auxiliary screen of the command room at any time, and the two screens have the command linkage function. In addition to real-time multidimensional data analysis, it also supports integration framework and external reference. For the ecological environment, production safety, emergency management, comprehensive law enforcement, social governance, major projects, data sharing and network public opinion and other areas can be centralized control. Truly realize the one-key management and control of digital urban operation and maintenance.