Cedar's 120'' 4K Mini LED Made an Impressive Debut on the Spanish ISE Exhibition
Cedar's 120'' 4K Mini LED Direct Display Super TV Made an Impressive Debut on the Spanish ISE Exhibition, the First Exhibition in 2023
From January 31 to February 3, 2023, the world's largest professional audiovisual technology exhibition - European Exhibition of Audiovisual Equipment and Integrated Information Systems 2023 (ISE 2023) was held in Barcelona, Spain. With its latest products such as 120'' 4K Mini LED Direct Display Super TV, Cedar Electronics made an impressive debut, bringing a splendid visual feast for European customers. Our booth was full of visitors, creating an unprecedented presence and hitting a new high for visitor flow volume.
At this year's ISE, Cedar Electronics showcased the world's first 120'' 4K Mini LED Direct Display Super TV integrating the flip chip COB integrated encapsulation process and core patented technology of image pixel enhancing, which had significant advantages including high pixel density, high definition, high reliability, high brightness, high contrast and high cost performance. These products met the people's pursuit of visual experience for ultra-high definition and ultra-high resolution large-scale display terminals, and attracted the attention of site guests with high-quality visual experience. At present, Cedar has established a supporting industry chain based on the flip chip COB integrated encapsulation to complete the development of 75", 85", 98" and 120" series products and already has batch production capacity. These products were released ahead of Samsung, Sony and other international LED display giants, with full set of technology reaching the international advanced level.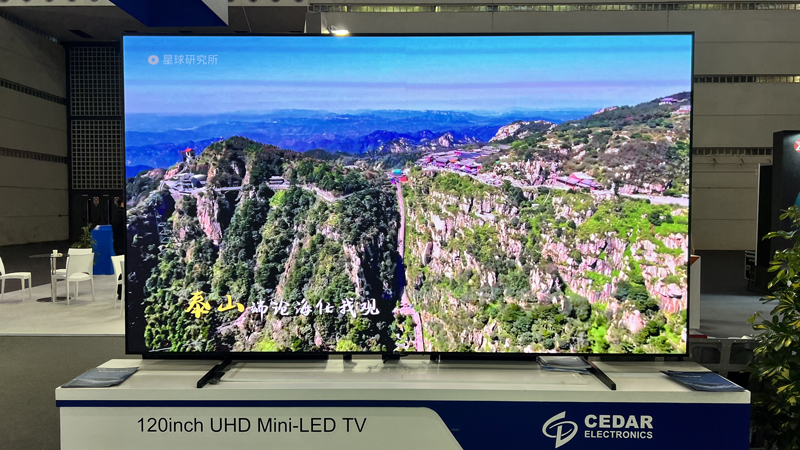 Cedar's RCU 138-inch UHD Smart All-in-one made a stunning debut and was eye-catching with its minimalist integrated design and strong functions. This series of products adopt the UBP deep black surface ink treatment technology, with anti-glare, non-reflective, ultra-wide viewing angle, ultra-wide color gamut, significantly energy-saving and ultra-low temperature rise advantages and supported by a number of advanced core algorithms, making it more competitive in smart applications including high-end conferences, radio and television broadcasting, HD video conferencing, education and training, high-end presentation, multi-purpose conference hall, news release and HD live streaming.
Besides, other new products including RCU P0.4/P0.6/P0.7/P0.9/P1.1 were exhibited. These new products had optimized box structure design and used new encapsulation technique to realize deeper black ink, better flatness and higher color consistency. Many products exhibited made their debut at the Exhibition and attracted high-end buyers in Europe with their excellent performance. The products can be widely applied in various diversified, multi-terminal, multi-interaction scenarios such as emergency command, security monitoring, smart education, stage rental, business conference, large enterprises, recreation and entertainment.
As a global pioneer in the field of COB display with mini pixel pitch, Cedar Electronics has been increasing its international brand influence. In future, Cedar will continue to unswervingly promote its international strategic layout, actively deploy the industry's cutting-edge technology, accelerate the pace of overseas market development, provide its customers worldwide with greater quality, sustainable products and solutions, and hand out to the world the "shining business card" of Chinese LED display industry!