The Convocation of 2022 Flip Chip COB Innovative Product Promotion In Peking
Innovation, Gathering, and Win-Win: The Successful Convocation of 2022 Full Flip Chip COB Innovative Product Promotion Conference in Beijing
In the Golden September, this conference was convened through concerted efforts. On September 6, 2022 Full Flip Chip COB Innovative Product Promotion Conference of Cedar Electronics kicked off in Beijing. As another important annual event after those in Guangzhou, Nanjing and Changchun, this event aims to focus on the development trend of industry with partners, give them an all-round display of the innovative products, technological advantages and brand strength of Cedar Electronics, and build consensus and deepen cooperation with them in exchanges.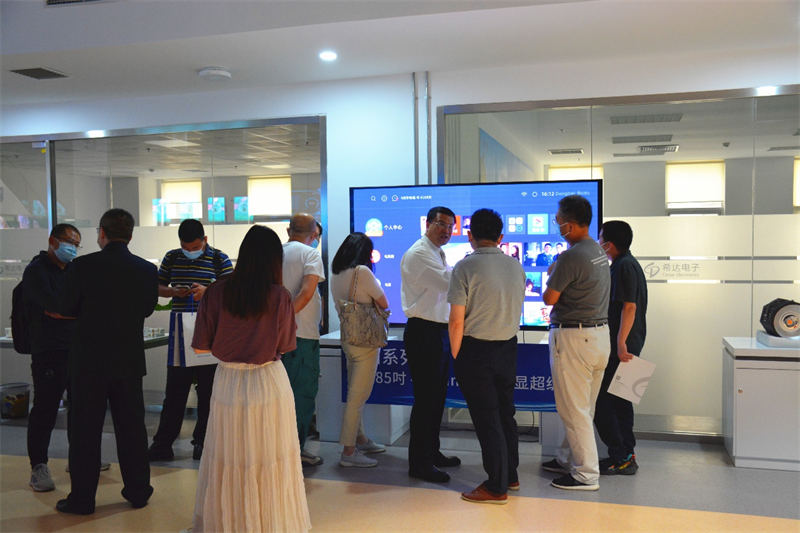 At the Product Promotion Conference, Cedar Electronics exhibited Phantom Crystal Series 276-inch 8K green UHD flip chip COB large display, Phantom Crystal Series 120-inch/138-inch 4K UHD intelligent all-in-one machine, Phantom Crystal Series 85-inch 4K Mini LED direct display super TV, Obsidian Series poster screen (P0.7/P0.9/P1.2/P1.5), flip chip COB 138-inch 4K supper movie screen (P0.7), and flip chip COB UHD arc screen (P0.9), etc.. Among them, the most eye-catching ones were Phantom Crystal Series products independently developed by Cedar Electronics, which, based on Cedar's full flip chip COB technology, integrated the patented technology of RGB sub-pixel silicon crystal arrangement and unique wafer reuse. With the same area, this Series can achieve 4K/8K and higher resolution, and at the same resolution, Phantom Crystal Series are more competitive than the conventional display products in terms of price and they are characterized by ultra-high resolution, ultra-high contrast, ultra-high brightness and ultra-wide field of view, which can present the centralized display of massive information and data, and create the ultimate visual experience of full immersion, full scene and presence for users with outstanding and perfect picture quality.
At the conference, Li Jingyi, Administrative Assistant Deputy General Manager of Cedar Electronics expressed a sincere welcome to the partners present. He pointed out that Cedar Electronics had been adhering to a high sense of responsibility and mission in its development and leading industry development with technology and quality. Owing to the hard work and substantial support of all partners, Cedar Electronics had been "seeking progress while maintaining stability, and turning for better steadily." In the new era, the company hoped to make new advances, seizing the development opportunities together with far-sighted personage to build a healthy ecology of win-win cooperation in LED display industry.
Senior Marketing Engineer Zeng Yuqiang made a comprehensive introduction to the development of the company. He indicated that relying on Changchun Institute of Optics, Fine Mechanics and Physics, Chinese Academy of Sciences, Cedar Electronics had been deeply involved in the field of LED display and lighting for more than 20 years. It had undertaken the national LED display projects of the "The 10th Five-Year Plan", "The 11th Five-Year Plan" and "The 13th Five-Year Plan" successively, and formed a relatively complete industrial chain of device packaging, product design and manufacturing, machine installation and service. The company had strong abilities in product design, process support and quality control, and had established the COB-oriented intellectual property system, with a number of leading advantages in the industry.
Senior Technical Engineer Wang Jicheng gave a detailed interpretation on the issues partners most concerned about. He stressed that the five series of products represented by Phantom Crystal and Obsidian were the application and transformation of the innovative achievements of LED display technology with ultra-high resolution in "The 13th Five-Year Plan" National Key R&D Program. The products were technologically innovative and industry-leading, which could achieve accurate coverage of differentiated markets. Especially in the booming development of UHD industry, the products could meet the diversified needs of various fields, and comprehensively empower the development of intelligence, remoting and digitization.
Meng Fandong, Deputy General Manager of Beijing Subsidiary, shared his opinions about agent and supply chain finance policy. He emphasized that in the digital economy era, a sound supply chain finance system could further improve efficiency and maximize value. Cedar Electronics had established a collaborative, open and shared cooperation system to ensure that the entire supply chain was more secure and convenient, and to provide strong support and service to the partners.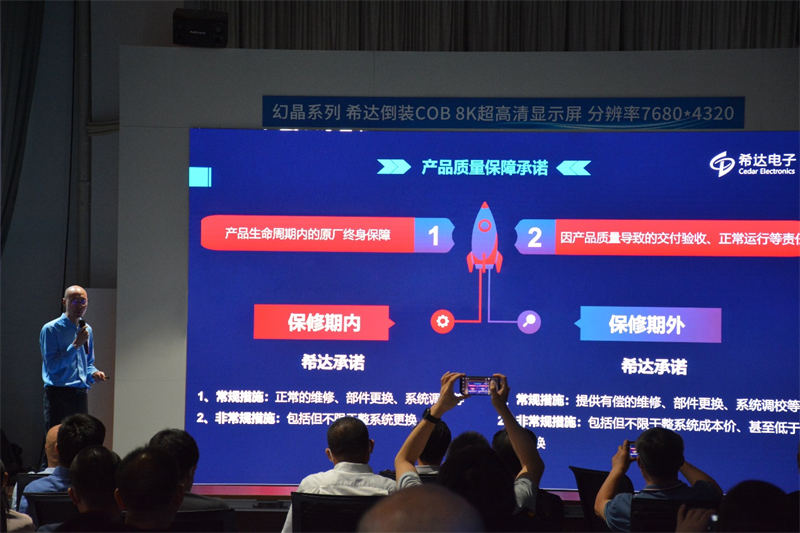 The conference has further consolidated the foundation for cooperation to build a mutual trust and win-win industry ecology. Cedar Electronics will continue to build on existing strengths to empower partners with a full range of services and support. In the wave of digital economy, the company will respond to the trend and ride the momentum, build the engine of development with innovative technologies, and contribute scientific and technological strength to the transformation of "made in China" to "intelligently made in China".
With the launch of nationwide full flip chip COB innovation product promotion tour activities of Cedar Electronics, we look forward to making in-depth exchanges with more customers and partners across the country. We will continue to make innovations and strive for win-win results. There will be more highlights, please keep your eyes peeled.
Phantom Crystal Series 276-inch 8K Green UHD Flip Chip COB Large Display
Flip Chip COB UHD Arc Display Screen of Cedar Electronics
Cedar Electronics 85-inch 4K Mini LED Direct Display Super TV
Phantom Crystal Series 120-inch 4K UHD Intelligent All-in-one Machine