Cedar Electronics Amazes at Sino - Ukraine Science&Tech Innovation Expo
On Nov. 21-24, 2017, the China - Ukraine Science & Technology Innovation Exhibition was held in Kiev, the capital of Ukraine. Cedar Electronic was invited to participate in the exhibition and introduced our latest products to the world.
It is the largest bilateral exchange activity jointly held by China and Ukraine in the field of science and technology, since the establishment of diplomatic ties 25 years ago. There are 220 scientific research and production companies from China and Ukraine. Among them, there are 64 Chinese scientific research institutes and enterprises, such as Huawei, CRRC and Cedar, brought 150 achievements to the exhibition.
Cedar's COB LED display products and interchangeable with single light source, sodium lamp color LED street lamp as important scientific and technological innovation achievements during the "Twelfth Five-year" period of China to conduct related project promotion activities.
Cedar Electronics is a national key high-tech enterprise integrating R&D, production, sales, service and postgraduate training. Cedar has long been committed to the development and production of integrated COB products and has achieved great results. The technology breaks through the bottleneck of LED display products in aspects of Angle of view, production cost, production process, etc., to improve product reliability and display effect and product performance.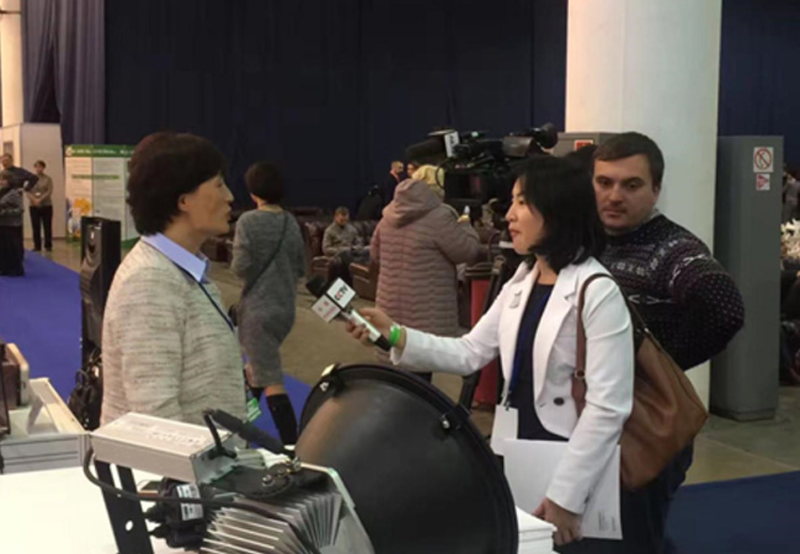 In the report to the 19th national congress of the communist party of China (CPC), general secretary Xi Jinping proposed to "promote green development, accelerate the establishment of a legal system and policy guidance for green production and consumption, and establish and improve an economic system for green, low-carbon and circular development". Cedar introduced the single light source interchangeable, sodium lamp color LED street lamp, this product 2200K and the traditional high-pressure sodium lamp same color temperature, independent light engine can directly replace the sodium lamp light source characteristics, LED street lamp energy saving transformation process can be carried out without replacing the lamp shell, to avoid the non-essential loss of the original assets.In 2017, It has won two top awards in China's lighting industry----First prize of China Lighting Award scientific and technological innovation, Alighting Award Top 10 product awards.
Sergei told reporters that the company's products are facing upgrading,Recently, company executives discovered Cedar's high-precision LED COB display at an exhibition in China. Now we have officially placed an order. "We chose it because it represents the future," he said, pointing to a high-definition LED display terminal. Zheng xifeng, Cedar's deputy general manager, told reporters that besides the LED display, they also brought LED lighting products. LED lighting just started, the company's products just fit the local energy conservation and environmental protection needs.
Cedar takes "technology innovation, service first" as its tenet to create cutting-edge LED display and lighting products, we dedicated to provide customers with comprehensive solutions of high-quality LED display lighting products. As the only LED scientific research and production enterprise in northeast China, our market is oriented to the whole country. Cedar LED display and lighting products are jilin famous brand products, which is a beautiful business card to show Jilin and even China LED industry to the world.