Cedar Electronics Appearing at Guangzhou International Lighting Exhibition and Creating a New Ecology of Green Lighting with the Power of Science and Technology
The 27th Guangzhou International Lighting Exhibition, hailed as "Wind Vane of Lighting and LED Industry", was held at Canton Fair from August 3 to 6, 2022. As the annual summit of lighting industry, this exhibition, with the theme of "Striving to Make Achievements at This Moment and Looking Forward to a Brighter Future", gathered hundreds of exhibitors from various countries and regions to intensively display the cutting-edge innovative photoelectronic technologies and comprehensive solutions. This time, Cedar Electronics presented its full scene lighting products and solutions, and exhibited the industry's first integrated LED street lamp with variable color temperature, continuously pushing LD lighting to be green, healthy and diversified, and promoting the high-quality development of the city.
In this Guangzhou International Lighting Exhibition, Cedar selected the theme of "Shining the Future with Chip and Walking with Light" and its exhibits were the transformation of the latest achievements of the "13th Five-Year Plan" National Key R&D Program. To fully display the advantages of products, Cedar Electronics set up special sections for road lighting, large space lighting and health lighting products, enabling customers to stop and feel the ultimate power of cutting-edge technology lighting.
With the rapid development of science and technology society, road lighting products, as the important "landmark" symbol of the city, not only help to improve the city image, but also make it easier for people to travel at night. Cedar Electronics has focused on the market demand to create a variety of LED road lighting products such as street lights, high pole lamps and tunnel lights, all of which use high-quality COB light sources. By applying advanced micro groove group composite phase change heat dissipation technology and professional light distribution design, they are characterized by single light source, no shadowing, fine light distribution, high utilization ratio of illuminant and low light decay, guaranteeing road safety at night and creating a comfortable and safe road light environment. It is worth mentioning that the integrated street lamp with variable color temperature initiated by Cedar Electronics can accurately realize professional light distribution design, and with stronger light control ability and lighting effect, it is suitable for a variety of road lighting environments. Under haze, rain and fog scenes, it can still maintain good road illumination, and meet the demand of urban road lighting with higher standards.
Since 2022, the "carbon peaking and carbon neutrality" goals have become a national strategy, and it is an irresistible trend to promote the development of green and low carbon lighting. The large space lighting products of Cedar Electronics have become the "first choice" of many commercial complexes, industrial plants, airports and stations, etc.. The self-developed high bay lights, down lamps and other large space LED lighting products can fully energize large space indoor and semi-outdoor sites. They can improve the industrial design aesthetics of products, and strengthen the overall efficiency of heat loss through convection, to ensure the thermal reliability of large wattage LED lighting products with high power density, and realize small volume, light weight, green energy saving and higher cost performance. As an advocate of healthy light environment, Cedar Electronics leads the industry in introducing health lighting products, including classroom plane lights, classroom blackboard lights, eye protection table lamps, and so on, using high brightness natural spectrum LED light sources. The light is soft and not dazzling, with no visual strobe and better visual experience, thus comprehensively boosting the green construction of healthy campus.
Cedar Electronics builds core development advantages with technology. From the achievement transfer unit of "Glorious Action" deployed by Chinese Academy of Sciences in 2013 to the undertaking unit of key special "research on key technologies of efficient and reliable LED lamps" project of "strategically advanced electronic materials" of "13th Five-Year Plan" National Key R&D Program in 2017, Cedar Electronics has continuously promoted patent trend of technology, commercialization of research findings and industrialization of research results and become a leading company in the lighting industry. The self-developed LED lighting products are not only leading and advanced, but also have significant economic and social benefits. In recent years, Cedar Electronics has not only created leading LED lighting products, but also maintained a high sense of corporate responsibility and mission to actively promote the healthy and sustainable development of the industry. It has successively participated in the formulation of Requirement for LED Lighting Design of Automotive Factory, Terms and Definitions for Sun-like LED and Related Issues Research and Specification for Healthy Lighting Design of Classrooms in Primary and Middle Schools.
At the 9th China LED Initiative Awards Ceremony held concurrently with the forum of Guangzhou International Lighting Exhibition, Cedar Electronics was awarded "Top 50 Intellectual Property Company of Chinese LED Industry 2021", which was recognized by the industry again for its leading technology level and outstanding innovation ability. As a national-level little giant enterprise "with characteristics of specialization, refinement, specialty and novelty", which takes technology as the core driving force, Cedar Electronics attaches great importance to intellectual property rights and talent team construction. The company has established a patent cluster with flip chip COB as the core, mastered the core technology and key production process of LED products, possessed a complete layout of intellectual property rights, and formed a relatively complete industrial chain of device packaging, product design and intelligent manufacturing, complete machine installation and service. Now it has more than 200 invention patents, and 5 of them have won China Patent Award, allowing it to have a leading position in LED display and lighting.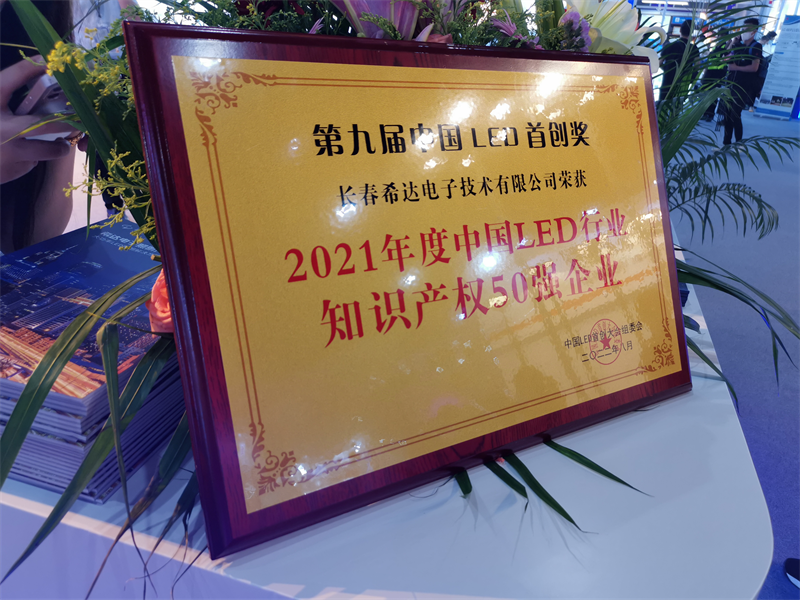 After entering the 14th Five-Year Plan period, green lighting has become an important way to save energy and reduce emissions. The lighting industry in China ushers in a new opportunity of development, and LED lighting has broad prospects. Cedar Electronics will unswervingly adhere to innovation-driven development strategy. Based on the new situation, the company will open up new situations, actively expand product applications, constantly improve product ecology, and empower the urban construction with quality light to boost the high-quality development of China's lighting industry.