Dr. Wang Yang, deputy general manager of Cedar,
During the 8th Jilin lighting science and technology award awarding conference and northern city lighting (Changchun) forum held on April 27, 2017. Experts, scholars and enterprise representatives from all over the country gave wonderful speeches on new lighting concepts, new products and new technologies.
Dr. Wang Yang, deputy general manager of Cedar, has won the unanimous approval and warm praise from all experts and industry personage on the spot for the "brief analysis on the development direction of urban road lighting" preached by forum.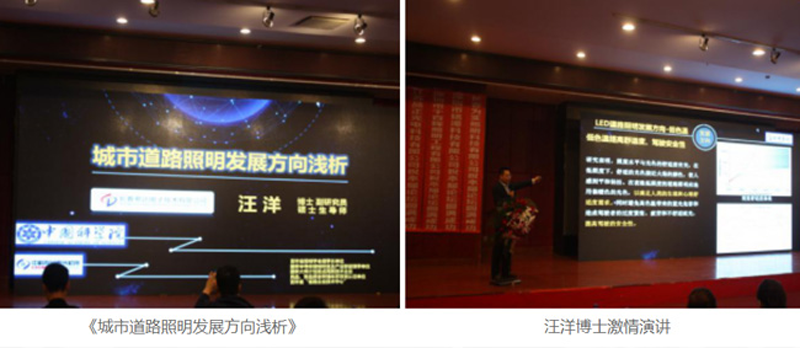 Dr. Wang Yang's speech starts from the development direction of urban road lighting. LED technology has entered the field of road lighting for nearly ten years, and the focus of technical research is mainly on improving efficiency and solving cost, but the problems of people-oriented maintenance, safety and comfort are still unsolved.
China's latest implementation of the "CJJ45-2015 urban road lighting design standards" in 2016, clearly requires that urban road lighting should give priority to the use of LED low-color temperature light source. However, the LED street light source applied in the market at present is still dominated by high color temperature due to its inability to break through the technical bottleneck. In China, there are many rainy and foggy days in the south, while in the north, due to environmental pollution and haze, the weather tends to be normal. LED street lamps with low color temperature have strong fog-penetrating ability and are less affected by climate. Compared with the traditional light source, it is more helpful to improve the comfort of human eyes, and at the same time to avoid the blue light harm caused by the high color and temperature light source to human eyes, eliminating the driving safety hidden danger caused by excessive tension, fatigue and uncomfortable glare.
Dr. Wang Yang believes that the light environment of urban road lighting in the future should be developed around safety, comfort and energy saving, Therefore, from the design of illuminator product itself, it should be the combination of energy saving and standard (guarantee the average illumination of road surface)+ low color temperature (guarantee the light penetration)+ easy maintenance and interchangeability (guarantee the interchangeability with sodium lamp)+ intelligent (guarantee the centralized control and energy saving).
Changchun Cedar Electronics Technology Co.,Ltd. is a holding company of Chinese Academy of Sciences, It is a national key high-tech enterprise integrating r&d, production, sales, service and postgraduate training. It is a professional manufacturer of LED display and lighting products in China which is good at innovative research. Cedar was found in 2001,headquartered in Changchun, China. Cedar has branch in Beijing, Shanghai, and Shenzhen, as well as offices in the U.S. and Germany. The registered capital is 54.2834 million yuan, the total assets are 330 million yuan. Changchun headquarters covers an area of 28,000 square meters, with more than 700 employees and two production bases. Our company has a high-quality research and development team with national experts as the core, consisting of doctoral supervisors, master supervisors, researchers, senior engineers, doctors and masters. It is the training center for master's and doctor's degree in "circuit and system" of Chinese academy of sciences.
Cedar breaks through the technical bottleneck of the industry and takes the lead in launching the industry's first sodium LED street lamp. The Features of this product are: ultra-low color temperature of 2200K, whole lighting effect of 115 lm/W, visible >65, single light source power of 30W ~ 300W. It has independent light source which can directly replace sodium lamp internal structure, precise light distribution, low glare, high uniform illuminance and no shadow, etc. Not only won the CQC product certification certificate granted by China quality certification center and the inspection report awarded by the national electric light source quality supervision and inspection center (Beijing), but also stood out among 229 international top products in the selection of 2017 Aladdin magic lamp excellent product award, which attracted national attention.
Cedar relies on the technical advantages of Changchun institute of optics, precision mechanics and physics, Chinese academy of sciences, adhering to the concept of "science and technology leading, innovative development", to provide high-quality LED display, lighting innovative product solutions, as well as high-quality professional engineering technology services, At the same time provide "Cedar energy-saving" contract energy management professional operation platform, sincerely invite friends from all walks of life to create a better future!
Based in the northeast, facing the world, lighting up the world.